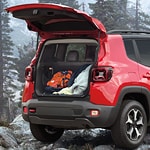 Every new model year of the Jeep SUVs comes with upgraded performance and safety features. The Jeep Renegade here at A J Dohmann Chrysler Inc is an outstanding compact SUV in the lineup that comes fitted with many high-tech safety features.
For passenger's confidence and peace of mind, the Jeep Renegade is fitted with a passenger's airbag. It also comes with a driver airbag, front head, rear head, and front side airbags. These sets of airbags are meant to keep the driver and passengers safe when an impact occurs.
The new Jeep Renegade also comes standard with 4-wheel ABS and 4-Wheel Disc Brakes that enhance the effectiveness of the brake assist system to reduce the chances of accidentally hitting obstacles and other vehicles. It also features an electronic stability control system with daytime running lights.
This family-friendly SUV also comes with child safety locks to ensure your kids are safe when driving the vehicle around Berwick, LA with them on the back seat.